Dear Parents/Carers,
Welcome to Holmer Lake Primary School, we are delighted that you have chosen Holmer Lake for your child's education.
The time spent in primary school is an extremely important part of your child's life. We want the time spent here to be full of exciting and challenging learning experiences that allow and encourage your child to develop socially, emotionally, physically and intellectually.
We will work closely with you and your child to make Holmer Lake Primary School the kind of community where every child can grow into a caring individual who feels valued and achieves the highest standards of learning possible.
Your child should expect to work hard but should expect to have fun too, with a memorable experience every half-term, educational visits and the opportunity to attend a wide range of after-school clubs.
We invite you to visit us while the school is at work so that you can better understand the kind of school community we are. This might be for our weekly Family Lunch or one of the many class-based opportunities to celebrate the work your child has completed over half a term.
Another group of people you may meet in school are our governors. You will find more out about their work and who they are on our website. We would like you to know that our main priority is to make sure that your children, our children, have the very best opportunities possible.
The Governors and Staff of the school look forward to working with you over the years that your child is at Holmer Lake Primary School. We hope that we are able to share with you the excitement of your child's learning and, as partners, work with you to achieve the high expectations we have for each child at Holmer Lake Primary School.
Yours sincerely,
Mrs Cook and Mrs Bishton.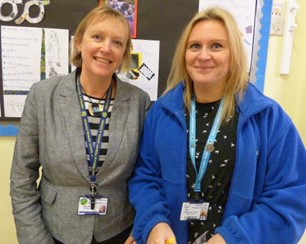 Dear Children,
Welcome to Holmer Lake Primary School.
We would like to tell you about some things that go on at our school. No matter who you are, everyone at Holmer Lake is treated the same and made to feel welcome. There is no need to be shy, you will always find a friend here. Here at Holmer Lake, we have special lunches to celebrate special occasions throughout the year. Sometimes parents are invited to join us for lunch, for example on Mother's Day. These are good times for us as children to enjoy. We have times when we can dress up and give donations to different charities. Also, we have clubs run by teachers and outside organisations at lunchtime or after school. These change every term to give everyone a chance to do things they enjoy and learn new skills. At our school, we have many expectations, such as, showing respect. Children, and also adults, have to show respect to each other. We have a set of rules called the TOP 5. These rules are: *Mutual respect *Everyone is treated the same, every minute of every day *Always use good manners *Knowing why we are here and what we should be doing *Showing we are ready to listen to each other. Pupils at our school are given the chance to work with the Head Teacher and other children. This may be as a result of being a member of Team Safeguarding, School Parliament or being a Lunchtime Ambassador. School life for children is important, if you work hard you can achieve in life.
Yours sincerely,
Holmer Lake Primary School - School Parliament