Heritage Festival June 2018
From 11th June 2018 for 3 weeks all classes worked on a whole school heritage project which was linked to the 50th Birthday of Telford.
Each class had a specific local history focus and taught skills across this theme throughout the curriculum. We were fortunate to receive one of the Telford 50 grants and have used it to enrich the children's understanding of their local heritage.
On Friday 29th June the school was opened to visitors (parents/ carers / friends) to come and view the children's work which was on display throughout school. Each class presented their work in the "Festival Arena".
Each class buried a time capsule in the heritage garden.
Visitors were also invited to join the whole school for the Telford 50th Birthday lunch which took place on the school field (in the sunshine!)
The school were awarded a Heritage School's award from Martin Phillips of Heritage England in recognition of their work.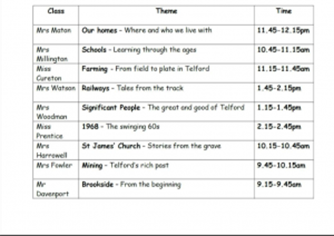 Holmer Lake Heritage Festival
A multi-sensory journey back in time.
CURRICULUM AIMS:
The project ran over the 3 weeks and encompassed all curriculum areas but with History the main driver.
Focus on local history and 50 years of Telford.
History
understand historical concepts such as continuity and change, cause and consequence, similarity, difference and significance, and use them to make connections, draw contrasts, analyse trends, frame historically-valid questions and create their own structured accounts, including written narratives and analyses
understand the methods of historical enquiry, including how evidence is used rigorously to make historical claims, and discern how and why contrasting arguments and interpretations of the past have been constructed
gain historical perspective by placing their growing knowledge into different contexts, understanding the connections between local, regional, national and international history; between cultural, economic, military, political, religious and social history; and between short- and long-term timescales.
KS1
significant historical events, people and places in their own locality.
KS2
a local history study
MEMORABLE EXPERIENCES
Heritage Walk along the Silkin Way to the site of the Stirchley railway station .
Heritage visits—St James Church and Northwood Terrace, Severn Valley Railway and Acton Scott Museum
VISITORS
The children worked with local Specialist Printmaker Jenny Gunning from Ironbridge Fine Arts & Framing Limited, Jean Atkin, Poet & Writer in Education & Community, Martin Phillips of Heritage England, Janet Holmes of Telford Church, Rosemary Brown, proprietor of the Old Rectory of St James, Ida White, local historian, Rick Shaw local Graffiti Artist, Malcolm Peel and the Granville Boys (local ex miners) and Linda Arnold and her family from Northwood Terrace, who allowed the Year 3 class to look around their house.
LOCAL BUSINESS SUPPORT
The school was well supported by the following companies, who Year 6 wrote to about their special event:Lakeside Plant and Garden Centre, Wyvale Garden Centre Donnington, Sainsbury's and Tesco for providing birthday cakes and Asda Donnington for decorations and bunting.