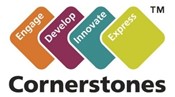 Assessing pupil attainment and monitoring progress without levels
Engage Innovate Succeed
The National Curriculum 2014 is the statutory curriculum that sets out programmes of study for key subjects and says what children need to learn and when they should learn it from Year 1 to Year 6.
The emphasis on the new curriculum is that all pupils should secure their knowledge and understanding of the year group they are in. This means that pupils are expected to use and apply their knowledge and skills in a range of independent learning opportunities; which is our Innovate week. There is also a drive to ensure that there is greater depth of learning. Our Learning Genie homework and SOLO Taxonomy drive this.
Our assessment system is compatible with our Cornerstones Curriculum. It is based on attainment and progress being measured in years and months. This follows the system used in Early Years which measures your child's progress against their chronological age.
The progress toward your child meeting age related expectations is measured from a baseline. For pupils in Year 1 and Year 2, this is against their end of Reception outcomes. Pupils are judged against the Early learning Goals which are the expected outcomes by the time pupils leave Reception. Pupils are graded as emerging, expected or exceeding the Early Learning Goals. A target is set based on their outcomes. Because we want our pupils to achieve the best they can we set an aspirational target of at least 12 months progress per child year on year.
For pupils in Years 3, 4, 5 and 6, the baseline is their end of Year 2 outcomes; which are based on their end of key stage tests. Again pupils will be measured on a termly basis of how much progress has been made to meet their end of year and end of key stage target.
Over a period of one year we would expect that 95% of pupils would make at least expected progress; 12 months progress and at least 25% of pupils would make 16 months progress in each year group.
Targets are set for each child based on where they are in their learning and what more they need to do to meet age related expectations and make at least expected progress. We will share this information with you on parents' evening, in October and February. This information enables you to have an understanding of where your child is in relation to national expectations and what they need to do next, to achieve the best possible outcomes for them. There will be clear next steps that you can support your child with at home.
The chart below shows the term by term and year on year expectations for all National Curriculum year groups.
Year group

End of Autumn Term

End of Spring Term

End of Summer Term

 

Years
 

Months

Years

Months

Years

Months

Y1

5

10

6

2

6

6

Y2

6

10

7

2

7

6

Y3

7

10

8

2

8

6

Y4

8

10

9

2

9

6

Y5

9

10

10

2

10

6

Y6

10

10

11

2

11

6