Team Safeguarding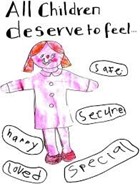 Team Safeguarding Voice are a group of children in Years' 3, 4, 5 and 6, who work to keep children safe at Holmer Lake. They are recognised locally and nationally for the work they have done, helping other young people know how to keep safe.
They are easily recognisable by their red sweatshirts, with the TSV logo on the front. The children receive regular training about the things that are going on in the world and help other children to understand and manage this. They work closely with the telford and Wrekin Children's safeguarding Board. Their work has included:
Writing a leaflet to help children understand the different categories of abuse
Writing a leaflet to help children understand about sexting and Youth Produced Sexual images
Delivering assemblies about LGBT
Delivering the NSPCC PANTS campaign
Making a film to promote the Safe Places for children and vulnerable adults in Telford Town Centre
Delivering their 'I am Me Campaign'
Tackling homophobia and racism
Working with the local policing team on anti-social behaviour
Organising conferences for other children
Presenting their work at different local, regional and national events
Look out for the weekly top tip that Team safeguarding Voice post on the newsletter.